I really like to help the victims of Nazi persecution. Or rather their descendants, considering that most people who survived that horror have passed away since. My main focus is on the restitution of German citizenship to those whose ancestors were once stripped of it by the Nazis. (Sometimes, it even happens that I get into a random taxi in Bolivia, and as the driver recounts his family history, I can tell him that he is eligible for a German passport.)
But then, there is another group of clients, and I am sure it's coincidence that thus far, they have all been American: People who want to be victims of Nazi persecution.
These cases have nothing to do with the Nazis, they are not even political in any way. It's usually a child custody dispute or some tax stuff. Little things. Nothing to get agitated about.
Yet, that particular type of client wants to turn their mundane dispute into a personal fight against evil, as if they were single-handedly storming the beaches of Sicily, Salerno and Normandy and killing every single Nazi on the way to Berlin. (Where they would then complain about the absence of the Berlin Wall and a McDonald's.) Or maybe they have watched too many movies and not enough news and believe that Germany is still ruled by the Nazis.
For example, there was this one lady, from Florida, but living in Munich, who was late with paying her bill. Very late. Despite repeated reminders. When she realized that I wouldn't yield, she finally paid and sent this e-mail:
Andreas, I paid today.

I told you I was in bad shape. Very bad shape in this Nazi nightmare.
To which I replied, with – for a lawyer – astonishing conciseness:
1- Thank you very much for the payment!

2- I recommend a short trip to Dachau and a visit to the exhibition there before making Nazi comparisons. It's belittling to the real victims.
That advice was free. Because I am a nice guy, and I give people the chance to reflect on what they wrote. But always, really always, those people keep digging the hole they put themselves into.
Her reply:
If you knew my husband's tactics I don't think you would make that comment. Less than putting me in a gas chamber which is almost my wish at this point is that it all is humiliated me beaten me taking my kids away called me a whore and a slut in front of my kids to me there's nothing worse than this and it's an appalling behavior of abuse of power. But I guess it's always the victim said allow themselves someway to be a little old so in the end it's always the victim fault.

Oh, he also threw out my nine-year-old father and my mother out of the house that I used to own in Florida that I was stupid have to sign over to him that he will sell it in the company and I end up with nothing kids no home no life. After working for him for so many years. And too stupid to take care of myself.

By the way my family history is of partial Jewish descent the last name was like who fled to America rest of the family was annihilated by the German Nazis. I never held resentment which is why I was able to live in Germany and excepted as a tragedy of war . My experience has proven different and if I could to my life over again I would've skipped the German part. I was so understanding forgiving and in disbelief of cruel behavior that I even had children here. Anyway , A systematic premeditated intent to destroy the life of another person was just calling to spade a spade
To which I replied nothing, because as only a foreign speaker of English, the grammar had become too complex for me. Sorry.
As you may have figured out from the above excerpts, these kind of people have more problems than inappropriate historical comparisons. In fact, it is just one of many red flags, which by now I have learned to detect early on, giving me the opportunity to gracefully decline any request to get involved in their personal battles and tribulations.
Or take this guy, who has been fighting to spend time with his children for years, which must suck big-time. However, child custody cases are severely contested in many jurisdictions around the world, and I am not sure the Gestapo comparison is appropriate.
I want a lawyer to find out if there are any restraining orders or anything else against me. I can't imagine what anything else could mean, but lying and ignoring the law have not prevented German officials from acting badly. One of my other lawyers tells some horror stories from her 10 years of court cases to finally get one man his son.

Maybe not the same lawyer because this requires a bit of courage: I also want a lawyer to be around if the police act illegally with me like they did 5 years ago. (The Goettingen police arrested me on false charges, refused to let me talk to a lawyer, only let me out of jail after they confirmed they had nothing to arrest me on but told me if they saw me again they would keep me in jail regardless of the law). So I want a lawyer around who won't meekly ignore illegal actions by the police, if there is any chance I meet with my kids. I may get some extra help (e.g. PhD psychologist) as observers so if the police do one of their Gestapo tactics again, others are present. This will remind them of how much trouble they will be in if the police act badly.

This may sound extreme, but after my experiences in Germany (also included judges clearly lying, in writing) tell me the law isn't that important so I need to take extra measures to prevent that from impacting me.
Just to put things into perspective: The Gestapo was the Nazi's secret police and played a key role in the suppression of any opposition and in the Holocaust. It was an instrument of terror.
Now, I am not saying that contemporary German police are all nice people. Quite the contrary, there is the problem of racial profiling, and each time I return to Germany from abroad, I really wonder why my country has one of the unfriendliest border police forces in the world. – But still, that's very far from the Gestapo. I mean, in all of last year, there were 8 people shot dead by the police in Germany. (In the USA, it takes the police only three days to kill as many people. Or twelve days if adjusted per capita.)
If you are ever in Germany and interested in the Gestapo, their former headquarters in Cologne have been turned into a museum.
Oh, you remember the "part of my family was of Jewish descent" from above? This is of course topped by "I have Jewish friends", which is another warning sign, reminding me of people who "can't be racist, because I have black friends / have been to Africa / like Puff Diddy".
Let's take this example:
Hi Andreas,

I just discovered your website and think you took a great decision by closing your office and travel! I feel that you are the kind of Lawyer we could have hired, you seem loyal, honest and knowledgeable.

Here is the situation and I need your total honesty.

Our story: In 2012 (USA), (10 years ago!!!) we purchased a cell phone to our daughter and put her on the phone family plan and she started sending nasty pictures (pictures taken when she was on vacation in Hawaii 2 weeks with her friend. We were not with her on vacation! So being nice parents and buying her a trip in Hawaii was a big mistake that destroyed our lives) to her "friends" on line and when she was caught at her return, my husband smashed her phone in pieces and cut Internet access to protect her and deleted everything to protect her (because kids go to prison for that matter in America) and he was not aware she hid a pic on an Apple Ipad. The daughter blackmailed her father, furious that he destroyed the phone and said that she would make up a story if she did not get what she asked for. My husband refused and she reported false allegations to the police.

The Law Enforcement were not happy because the nasty pictures were destroyed and the police is mad at my husband for destroying the data because they could have caught her "friends" with her nasty pictures so the Law enforcement retaliated and gave my husband a false conviction, he was held for 5 years without trial (with false added allegations), tortured, included water boarding and in extreme psychological torture. By the way, our daughter of 12 years old was kidnapped by FBI and put for adoption because I did not want to collaborate and did not want to lie to get her back.

So because of that ONE picture that he did not take and that picture was found on the Ipad that he was not aware of, he was put on the Megan List (a cruel list that does not make sense where about 1 million people (included children from 5 years old are labeled absurdly Sex Offenders and are on that list that violates their human rights) have their lives destroyed and family members and friends are harassed by the police.

As soon as a person is on the registry in USA (Megan list/Sex Offenders list) his/her life is basically over.

They are labeled harshly Sex Offenders (in USA, you do not need to commit a sex crime to be on that list, if someone is caught to pee outside, two teenagers in love, mooning, touching a shoulder, sexting, sending pics, and even a five year old hugging a teacher… will end on the Sex Offenders Registry and basically it had been proven that life on the Megan registry is very parallel to the Dark History of Germany (branded passport, you cannot go to the park, library, live where you want…, people are on a Public List on Internet with their pictures and address and are murdered, commit suicide….

We moved at the end of 2021 to Germany to try to get a life and the American government with the help of the German Law Enforcement and vigilantes stalk us, snitch on her, report our location daily, telling neighbors, Doctors not to deal with us, shops refuse services…..

Basically we are treated like Jewish people were, sadly. Could you believe that?

A Holocaust Survivor man has his grand-son on the Megan List and mentioned the parallel with the Holocaust and said "no, not again!".

We hired a Lawyer in Nuremberg, Germany where we live and after reading on your Blog how to hire a good Lawyer, I realized he was not a good fit because he portrayed exactly the "Lawyer" not to hire. He was not loyal, barely talkative, the authorities told him not to work with us anymore.

We consider ourself good and educated people and we did nothing wrong in USA or anywhere else. We would like to file for international human rights violation and against harassment.

We know that we will never get a loyal Lawyer so we would like to file a petition against the police, against USA too by ourself. Would you be able to help us? To tell us where to go to file or file for us, the form to use…We are from USA and we do not speak German enough to do so. Of course, we will pay you to do everything for us fast.

Is it something you could do? We have also other law suit we would like to do too.

We do not want to waste money with another Lawyer who will not help us.
Again, in my reply, I offered the chance to walk away from the unfounded comparison:
I am aware of Megan's Law and its completely over-bearing consequences, although, based on my understanding of the law and of German history, I would not compare it to racial and anti-semitic persecution of whole groups of people.

I am also not quite sure what you want to achieve. There is nothing that a German lawyer or a German court could do to change a US federal or state law or indeed influence any US federal or state government action. Neither country is subject to the jurisdiction of the other country.

There is no international human rights court. (There is a European one, but it only deals with acts by member states of the Council of Europe.)

A different matter would be specific acts of harassment taking place in Germany.
And as always, the person did not take the clue, instead doubling down:
As I mentioned a Holocaust survivor compared the Megan Law himself with the dark History of Germany because his son is on the Megan List and that link does prove it,
followed by the link to a YouTube video.
I realized that they were generally more the YouTube-watching rather than the e-mail-reading folks, because what they wrote next sure sounded as if they hadn't properly read my e-mail.
We want to abolish the Megan List in an International court because it is a violation of Human rights based on the "Universal Declaration of Human Rights" and the Lawyer we had did say that it is also an International matter because the Megan List also exists in other countries.
By now, one of my standard replies is:
This is not how the law works.
As the couple live in Nuremberg, they would actually have two memorial sites in their neighborhood: the Nazi party rally grounds and the site of the Nuremberg Trials.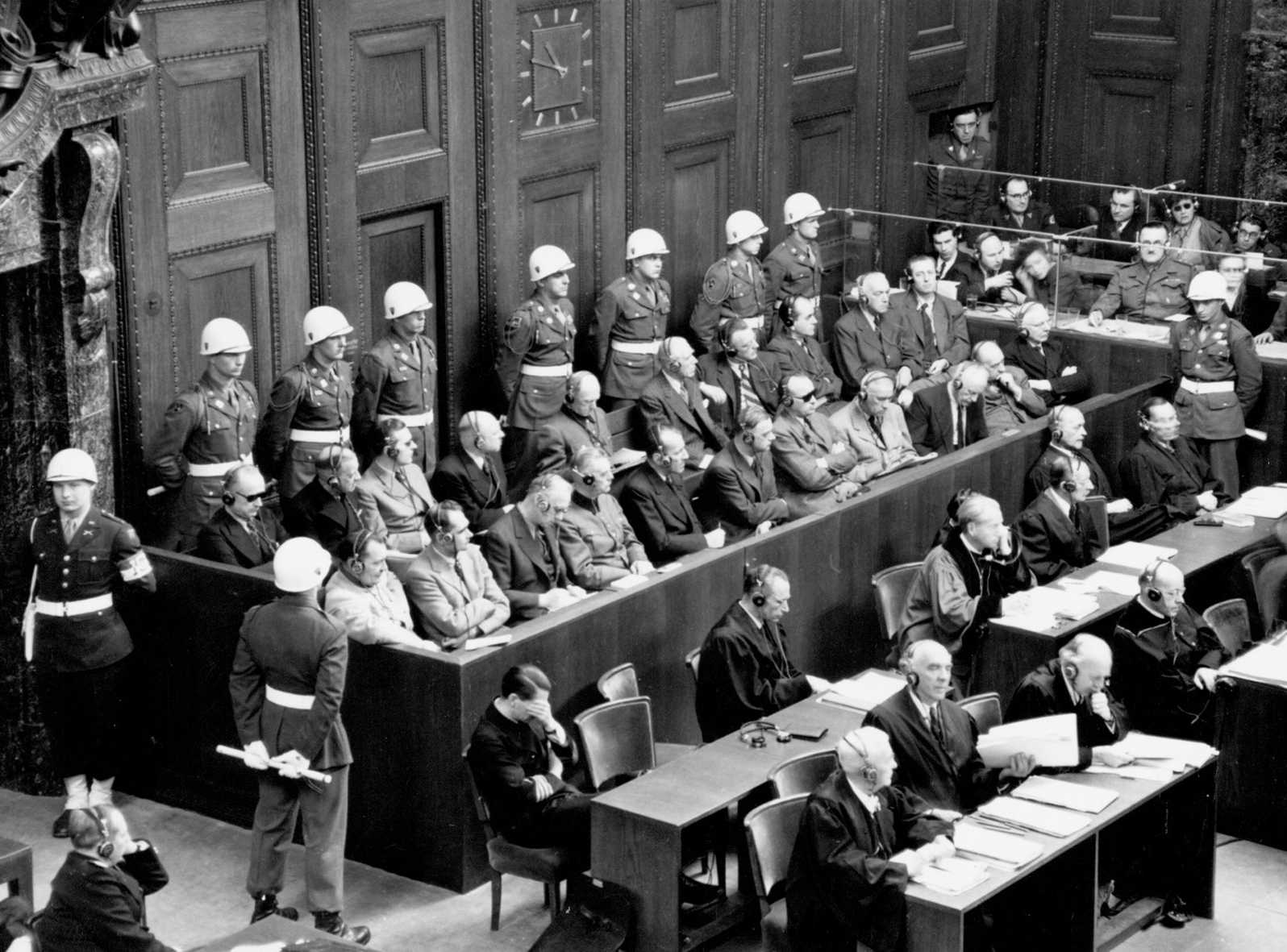 But this time, I didn't even recommend a visit, because the people sounded like they would just bother the poor museum staff. And as a general rule, historians are not any more interested in watching your YouTube links than lawyers are.
By the way, whenever I had a court case in Nuremberg, I tried to cheer up my client: "Hey, you gonna get divorced in the same courthouse where they hanged the Nazis!" It never worked.
When I return to practice as an attorney, I only want clients with a sense of history, please. Or at least with a sense of humor.
Links: