Usually I write about cities to motivate you to visit them yourself. In the case of Odessa, the Ukrainian port city on the Black Sea, which, as you will see, is so much more than a port city, this may be too late. Odessa may become the next target of Russian destruction.
I visited Odessa in January 2020, after house-sitting in Kyiv and a stopover in Uman. The report is based largely on notes that I took at the time, thus conveying the impression I got back then. Only very occasionally will I intersperse current references from the war in 2022, because this is mostly intended as a personal, subjective report. And the memory of a city where so much more will be destroyed than buildings, cats and human lives.
1
Some people see photos of Inca ruins, the Eiffel Tower or the Matterhorn and know: "I have to go there!"
My brain operates more linguistically than visually, so it's the names of cities – without knowing anything else about them – that make me dream: Timbuktu. Samarkand. Damascus. Jerusalem. Casablanca. And Odessa.
Sometimes, it might be better to stick with the dreaming, so as not to shatter the illusions and damage the world climate. But if I already am in Ukraine, I can't ignore the siren call.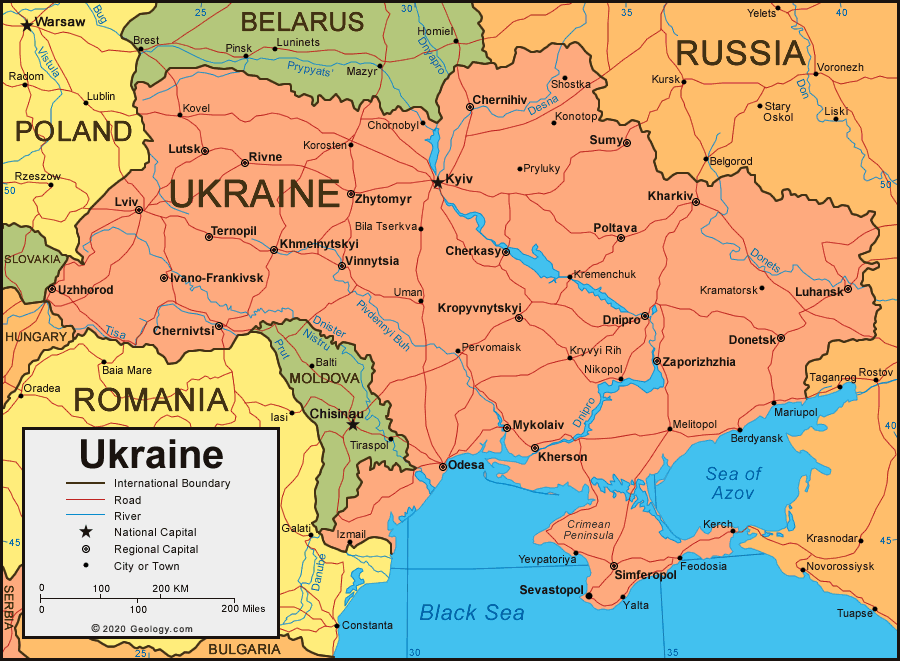 2
Arriving in Odessa by train, you are welcomed with style. Every long-distance train is greeted with classical music blaring from every speaker. There's nothing like waking up to Tchaikovsky as you drowsily stagger out of the sleeper car and step into a new city about which, if I am honest, I don't know anything yet.
The second surprise is the lettering on the imposing station building: "Welcome to Odessa, Hero City!" An honor bestowed by Stalin during World War II (more on this in chapter 47), including the Order of Lenin, with the Ukrainian flag above it. On the portal are the dates 1905, 1917 and 1944, for the Russian Revolution, the October Revolution and the liberation of Odessa by the Red Army.
In the station restaurant, which exudes the charm of the 1960s, Red Army soldiers are watching with hammer and sickle while I am eating a red cabbage salad. Instead of a hammer and a sickle, I got a knife and a fork, though.
None of this fits the Russian propaganda that Ukraine is a country of Nazis and fascists. But it also shows Ukrainian ambivalence about the Soviet Union. And it confuses Western readers who rarely make a distinction between the Soviet Union and Russia and are amazed that there are so many different countries, peoples, cultures, languages and histories east of Berlin or Prague.
The confusion will not diminish in what is to follow, I am afraid. But those who like to cast their prejudices aside, are welcome to follow me on this walk around Odessa.
3
It is January 13th, but in the basement that will be my apartment for a week, the electric candles on the Christmas tree are still glowing.
"According to the old calendar, today is New Year's Day," Vadim explains, incidentally in very good German, which he learned without ever having been to Germany. The apartment rental business is actually his wife's, but whenever he sees that a guest is coming from Germany, he wants to practice his language skills.
"Good that you're staying in Odessa for a whole week. You really need that much time to see the city." Besides, he says, prices for basements have fallen through the floor right now, while they will quadruple in the summer. After the end of the Soviet Union, Ukraine has apparently fallen into the trappings of a cruel market economy.
I ask Vadim if he is already booked out for summer. "It's going well," he says diplomatically, explaining quite unpatriotically: "People used to go to Crimea in the summer. But since Russia's annexation, that's no longer possible. So they come to Odessa instead."
Kyiv is far away, Moscow even further.
The business-minded don't mind whether it's the ruble or the hryvnia rolling in.
4
There is construction, sawing and hammering going on everywhere. Far outside the old town, ugly hotels are being built. The old town itself is being lovingly restored. The streetcar network is being expanded.
Five months ago, this building opposite the Transfiguration Cathedral was completely dilapidated, people tell me.
5
The cathedral itself needed some repairs as well. In 1936, it had been blown up, following orders from Stalin.
But you couldn't tell now.
Soborna Square with the Transfiguration Cathedral is just around the corner from my basement loft, so I get to know this square at every hour of the day. And the night. Even in sub-zero temperatures, men are playing chess outside.
I haven't yet discovered the park where women play chess.
But maybe the women here find chess not feminine enough. Ukrainian women, at least the young, single ones, deem many activities to be unfeminine: opening doors, buying a bus ticket, opening a can of Coca Cola, saying thanks to waiters and – an absolute no-go – paying restaurant bills.
Seriously, so many women here have such a princess complex, one would wish them the same fate as the Romanovs. The only normal ones are those socialized in the Soviet Union, when women were still allowed to be train drivers, cosmonauts and engineers.
Socialism was much healthier for women in many ways than capitalism is, where they always end up being a merchandise. Also in Odessa.
But enough of social criticism, you wanted to see something of the city.
6
People who have never been to Odessa always ask if the city feels more Ukrainian or more Russian. On my first aimless stroll, the answer is slowly forming in my head: neither nor.
The opera is Austrian and is playing Iolanta in Russian, Il Barbiere di Siviglia in Italian and Carmen in French.
Mendelevich Passage opposite Soborna Square could just as well be in Milano or in Florence.
The palaces look like in Venice, Bucharest or Paris.
The city was founded by the German-Russian Empress Catherine II, the first governor was a Spaniard with Irish roots, the second a Frenchman. The harbor looks towards Constanța and Constantinople.
Odessa, so far from the the mind of most Europeans, is a European city through and through. "Vienna as it never was, but without sea," photographer David Staretz calls it in a recent pictorial volume about this truly picturesque city.
7
On this journey, something terrible happened. I still have at least one week ahead of me, but I have already finished – and then given away – all the books I brought with me, most recently an illuminating book about Ukrainian history by Serhii Plokhy, The Gates of Europe. Now the backpack is lighter, but the brain is craving for new input.
As I step out of the train station, I recognize the cover image: the local offices of the state railway and the cathedral for Great Martyr and Holy Unmercenary Healer Saint Panteleimon.
8
Odessa is not an old city, as you can tell from the chess-board-like map of the city. Someone tried to copy New York, quite obviously.
The city was founded only in 1794, but it began flourishing no later than 1815, when the duty-free port was invented here. People came from all over Europe to work, to do business, to start over, to feel free, to escape pogroms, to set sail for adventurous sea journeys, or to hide from Pinkerton or Hercule Poirot.
Kyiv is far away, Moscow even further.
9
On Syerova Street, the ambulance driver, whose uniform makes him look more like a mechanic, is sitting on the curb, smoking a cigarette. Either he is waiting for the paramedics with a stretcher, or the ambulance itself has broken down.
With many cars, I wonder if they will ever drive again.
Or if they will end up being used for barbecues in Diukivsky Park.
10
Diukivsky Park is actually not far from the center. If you set off in the wrong direction from the bus station, you are already there. Or you take the streetcar, line 12 or 15.
A young girl is taking pictures of her pretty friend in a yellow-ochre sweater, making model poses. It remains unclear if they choose me, with a notebook in my hand and smoking a cigar, as the background for their photos or if they don't even notice me. A few lonely baby carriages are being pushed back and forth. But otherwise, there is not much going on here.
And there would be so much to see and do: A moated castle, a go-cart track, a theater and, right next to the lake for family outings, the headquarters of the Bandidos biker gang. Maybe they are the reason why not too many people dare to visit the park. Although, the real bandits in Odessa are sitting elsewhere, but more on that in chapter 16.
11
The construction boom probably explains why I can' t find "The White Guard" or "A Dog's Heart" by Mikhail Bulgakov at Starokonny Market, as I had hoped, but only drills, saw blades, rubber boots, carpet glue, sandpaper, tiles, but also canaries and night vision goggles.
You could get almost everything here, but nothing that I need.
12
On Sofiyivska Boulevard, four students from the Naval Academy are walking past me, in black coats with gold buttons, and in black fur hats, the coats too long and wide, the hats too large for them. They look like children wearing their fathers' uniforms. Like children playing war, one would say elsewhere. But here, there is war.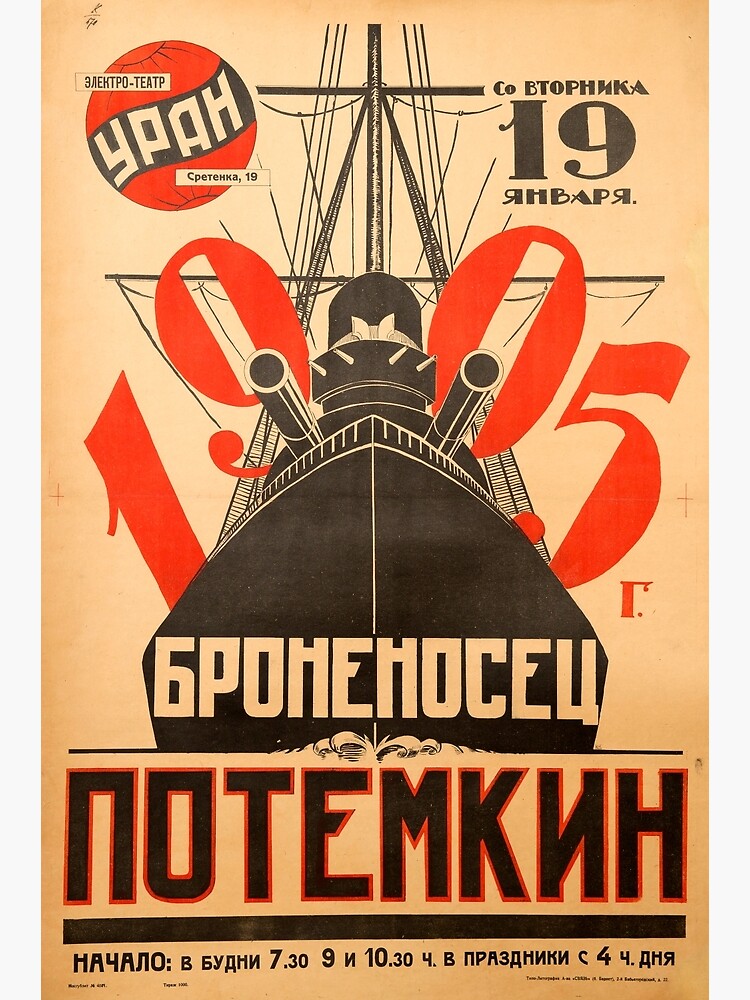 And then I finally remember whence I know Odessa, without ever having visited before: "Battleship Potemkin", a silent movie from 1925 and for some reasons regarded as a film classic, was filmed here. Good that I missed it when it first came out, I think, and start looking for a cinema.
But the cinemas I find are only playing Star Wars IX, Jumanji and Cats. Nothing with ships. Although cats and ships would actually go well together. I guess I will have to watch it on YouTube. The Soviet Union won't crack down too harsh on this one little copyright violation, I hope.
I walk back to my apartment, which is accessed through a long archway, across a courtyard, over a small garden fence and down the stairs into the basement. This is the kind of apartment that no one wants in peacetime, but which can save lives in times of war or revolution because of its hidden and protected location. If we have war or peace right now, that's hard to say. "Frozen conflict" is what political scientists call situations like the one in Donbass, but I am not sure if it feels frozen to the people being shot at there. On the other hand, in Odessa, life is absolutely normal.
In any case, I am definitely frozen. When Vadim showed me the apartment, I thought he had accidentally left the stove on. Now I realize that it was the only way he could make it seem like you could survive here in January. The kettle, tea and packet soups are quickly becoming my best friends.
And the warm bed, in which I suffer through 72 minutes of Potemkin's battleship before falling asleep.
I guess the film only became famous because the scene of the massacre on the stairs – and especially the baby stroller rolling down, unfaced by the mayhem around it – has been copied in many movies since.
One thing is for sure: I have to find those stairs!
13
But first, I meet up with Yaniv.
We had met when we were both living in Târgu Mureș in Romania. Supposedly, he is now studying medicine in Odessa, but I have the impression he is more concerned with culinary arts. As we walk through the city, he can comment on every restaurant, bar and kebab stand: "They have the best burgers here, but unfortunately they're a bit expensive. That's only for my birthday."
"Where are you staying?" he asks me.
"Dvorianska Street."
"What number?"
"Seven."
"Oh, there is 'Merry Berry' right across the street. They have fantastic Frappuccino with strawberry foam and Oreos."
14
There, are those the famous Potemkin Steps? And there is even a bottle of Odessa sparkling wine for the honest finder.
No, that's not the one, I have to admit, disappointed.
15
In the "Molodost" pub, we are drinking beer from preserving jars. That's what happens when grandma saves every pickle jar, "because you never know when you might need them." Eventually, the basement fills up and the grandson has to open a bar.
As is often the case, I forget my scarf in the bar. Oh, the scarves, hats and gloves I've forgotten all over the world, you could equip a whole battalion with them. I don't even buy such annoying pieces of clothing anymore, because they are gone after a week anyway.
I only notice the loss after an hour of walking through the nightly city. Because the Molodost is not far from my apartment, I make the small detour. The pub is packed now, but my scarf is still on the table. Someone has even folded it nicely.
Seems to be an honest city.
In the coming days, I also notice that each time I take the tram. In Odessa, you don't pay when you get on, but when you get off. Of course, you could also step off at the back or hope that the conductor doesn't notice anything in the crowd of passengers. But why be dishonest, when a ride costs 5 hryvnias? That's about 15 cents.
16
Even the dogs are honest here. This one has found a wallet and is taking it to the lost & found office.
As the lost property office is located at City Hall, it may well happen that the wallet will "get lost" there, though. Because the mayor, Gennadiy Trukhanov, is in prison, awaiting trial for fraud, money laundering, embezzlement, abuse of power. But of course he remains in place as mayor.
Pretty much like Joachim Wolbergs, the mayor of Regensburg, a city in Germany, where I went to law school, coincidentally.
And suddenly I understand a mural which I have seen to the left of Saint Paul's Church, sealing a twinning agreement between the two gangster cities.
The case is even more dubious than I thought, and you are reading this scoop exclusively on my blog. See for yourself: One guy is the corrupt mayor of Odessa, the other is the corrupt mayor of Regensburg. Gennadiy Trukhanov and Joachim Wolbergs.
Do you notice anything?
Exactly: It's one and the same person! That guy is so brazen, not only does he govern two cities in two different countries at the same time. Not only does he defraud, steal and plunder in two cities in two countries. No, he even initiated a municipal partnership, so he can fly back and forth between Regensburg and Odessa at the taxpayers' expense.
And if your first reaction is one of disbelief, I ask you to find a photo that shows the two of them together. There is none. And that's pretty suspicious for the two mayors of two twinned cities, isn't it?
But you needn't worry about the gentleman. As Wolbergs, he was only sentenced to a jail term on probation. And as Trukhanov, he was released in October 2021 after somebody posted a million dollars bail. That somebody was a member of parliament who happens to be a billionaire in his private life. Which is quite normal in Ukraine, as you know from Andrey Kurkov's novel "Penguin Lost". Highly recommended, but you should read "Death and the Penguin" first.
17
The story of the two criminals, who may only be one criminal, could have been written by the two greatest writers from Odessa, who may only have been one writer: Ilya Ilf and Yevgeni Petrov, who wrote and published together as Ilf and Petrov. Nobody can imagine how two writers are supposed to write novels together, but the result is convincing.
Like every city, Odessa has a number of monuments for generals, mayors, explorers and writers. But the most popular one is a monument for a novel: "The Twelve Chairs" by the dubious duo Ilf and Petrov.
It is a picaresque novel about a hidden treasure of jewels, for which the rightful heir, a greedy priest (as if there were any other priests) and the shrewd and charming crook Ostap Bender are fighting an eventful chase against each other. One of the funniest books of Soviet literature!
18
Elsewhere in the city, there are monuments to electricity, as well as to electricians. They probably allude to the opera "The Electrification of the Soviet Union".
I am not a friend of the opera, I have to admit. But if people insist on combining singing, music and jumping around, then I wish they would at least choose realistic topics like the electrification of the country, the building of the Stalin White Sea-Baltic Canal, or the mechanization of agriculture.
Is that still verism or already proletkult?
19
These book-shaped benches in Taras Shevchenko Park are neither, they just a stupid idea.
Sure, they look funny and creative. But you just can't sit comfortably on these silly benches, let alone sleep. That's the typical harebrained idea of people who have never once sat on a park bench for a few hours.
And much more important would be a bookstore, for crying out loud.
20
As Yaniv and I walk by Cooper Burger, he says: "On Mondays, you can get two burgers for the price of one here. And they're good, too."
Me: "It's Monday."
We immediately realize that we're both very hungry, and the decision is made.
It's good to meet with someone who is also a frugal student, instead of being constantly presented with recommendations for the most expensive restaurants. Many people in Ukraine have the misconception that all Western Europeans are rich.
21
Oh, you want to see the sea, don't you?
After all, that's why most visitors come to Odessa. I myself am not a water lover, but just for you, esteemed readers, I'll go to the beach.
Two years later, the same beach will be used to fill sandbags, to protect the city against Russian bombs, shells and missiles.
22
There, are these the famous Potemkin Steps?
Proud about the discovery, I stride them up and down, up and down, until I remember and realize that the real Potemkin Steps aren't supposed to be in the outskirts of Odessa, but right in the center of the city.
Oh well, I'll keep looking then.
But first, I need a break. I am trying to lure a cat down from a tree, but apparently, I confused the Ukrainian words for cat ("kitty") and dog ("chewbacca"), because instead of the former, the latter appears. But he does really look as if he needs lunch more urgently.
Okay, okay, if you look at me like that, I will make an exception for once and share my meal with a dog.
23
Have you noticed that the cats in Odessa all look very well-nourished?
Either it's the harbor, where there is always some fish left over. Or the people here are simply nice enough to put the remains of their dinner outside.
24
The love of animals is also evident in the infrastructure: Larger parks have veterinary stations, where you can take your animals for inspection or repair, or where more independent animals can drop by on their own accord and without an appointment.
They even treat penguins here.
25
Not to be confused with the veterinary is the veteran, sitting in the same park, looking rather exhausted and pensive. Based on the years indicated on the memorial, I assume that he has been to Afghanistan.
And now the war has come back to haunt him in his own country.
26
Further south, the weather and the waves become rougher and more raging. In the morning, you could have forgotten that it was January, but now the wind whips the calendar back into your face with brutal force.
27
The churches in Odessa are rather small, inconspicuous, almost hidden. Like townhouses between the much more splendid hotels, banks and trading houses.
Odessa appears much less religious than Kyiv, for example.
Or perhaps I should say: less Christian. Because Odessa was always a Jewish city as well. The third largest Jewish community in the world, after New York and Warsaw. More than 40 synagogues. Yiddish was the most spoken language in Odessa.
Until the Nazis and their Romanian accomplices came. And, we should not omit to mention, Ukrainians who collaborated with the Nazis. As a whole, Ukraine would prefer to keep quiet about this episode, although some people here are outright proud of it.
Many former synagogues are falling into disrepair.
The few that are still active are so desperate for new recruits that they even offer Jewish students money to attend lectures: 100 hryvnia for a boring lecture on Leviticus.
Yaniv tried it once, but "the atmosphere there was too Gestapo-like for me. They got upset because I used the time to study on Wikipedia on my cell phone." He's an expert on skewed historical comparisons.
28
In the morning, the port radio wakes up the city. From the loudspeakers, Leonid Osipovich Utyossov is crooning about, of course, Odessa.
But besides some bus drivers and street sweepers, I seem to be the only one who bothers to get up so early. Really, Odessa has a different rhythm. When you arrange to meet people for breakfast here, they ask, "So, 12:30 or 1 pm?" When I suggest 9 or 10 o'clock instead, I always hear that's much too early.
29
And thus, even the Museum of Modern Art is still closed at 12 o'clock. One could pass the time with a game of geopolitical basketball, but instead I strike up a conversation with two women who are also waiting for the museum to open. Alexandra is a lawyer, psychotherapist, editor, lecturer, attractive and intelligent. Anna less so.
When the museum finally opens its gates, we spot an artist couple in one room, unwillingly rising from their night's lodging, and we smell the unwashed socks. Well, maybe they are refugees from eastern Ukraine. You shouldn't judge before hearing someone's story. And maybe not even then.
An exhibition celebrates Volodymyr Strelnikov, a painter from Odessa, who has been living in Munich since he was exiled in 1978.
And the usual objects and ideas that you can find in a museum of modern art: Artwork made of mechanical parts, accompanied by the sounds of a shipyard in the background. The video of a very happy pyjama bear performing a Hasidic dance. And a lot of images and installations that are self-explanatory, I guess.
If, like me, you are more into classical painting, you can already look forward to a visit of the Museum of Fine Arts in the former palace of Count Pototsky – or in chapter 50.
30
Alexandra and Anna want to go to a shisha bar and smoke hookah. That's not really my thing, but somehow, you have to hook up with the locals. Otherwise, this blog would only be about me.
The conversation with the two women, however, is going rather slowly, because they are constantly on their cell phones. Attached to the shisha bar is a tattoo studio, Black Brush. The guys there are probably all getting tattoos out of boredom, because their girlfriends are staring into their phones all day long. They are scrolling through the online stores of TK Maxx and Zalando and talk about shopping trips to Krakow and to Italy. And Alexandra, the psychotherapist, should really know about the dangers of internet, cell phone and shopping addiction.
In the evening, they want to go to a lecture by some financial guru, who will explain how to work less and earn more. I offer to tell them from my own life experience, especially on how to travel the world with relatively little work. But the key to success, of course, is to spend less.
In Ukraine, for example, I go to Humana, where they sell the clothes that excessive shopaholics in Germany throw into the container. In those stores, you choose what suits you, pants, shirt, sweater, winter jacket, and at the checkout, everything is weighed together and multiplied by a price per kilo. It's as simple as buying coal or firewood. I can't remember the price per kilo, but for a few euros you can get completely dressed.
They look at me as if I were stupid, yet they paid 50 US-dollars each for the course that night. Even Ostap Bender wouldn't pull off such cheap charlatanry.
Later, Anna tells me in horror about a couple who were attacked in their house by men with submachine guns. The grandmother, who lives in the same house, was so frightened that she is in hospital now. But the most dramatic part of the story, according to Anna, is this: "They were not even rich! The house, the car, the clothes, the jewelry, it was all bought on credit."
The burglars couldn't really care less about the financing and the original ownership of the loot, but they were looking for cash, which the show-off couple had forgotten to get on credit. Well, that's what you get from being materialistic and superficial. No one has ever robbed me, with my hole-ridden shoes and my old cell phone.
I'm just afraid that Anna is going to draw the wrong lesson from this story.
31
Hearing that I am from Germany, the women tell me about the villages of Grossliebental and Kleinliebental, just a few kilometers outside the city. There are still a lot of German villages in the area. I should actually take a walk there, in the footsteps of the Black Sea Germans. I'll do that when I've seen enough of Odessa, I say.
"Ha," says Alexandra, "you'll never manage to see even half of it. The streets here in the city center alone will take you days. Don't just rush along, but pay attention to the tiles, the balconies, the stairs, the drawings, the carvings." A friend of hers offers architectural tours, spending three hours on just one street.
On the way back to the apartment, I will realize that she was right: Odessa is a city of details. You really have to look closely.
32
And you need to listen closely.
Alexandra and Anna speak Russian with each other, not Ukrainian. But they are and feel Ukrainian. "Of course," they exclaim, shocked that anybody would consider them Russian.
In the West, when talking about Ukraine, people often make a distinction between majority Ukrainian-speaking cities and majority Russian-speaking cities. In reality, many people here speak several languages (or a mixture) and change between them, depending on whom they speak to or depending on the occasion. Language is not considered as a marker of identity, but as a communication tool.
Just like I write this blog in English, but don't want the United Kingdom to annex me. Or like Austrians, North Italians, East Belgians, Swiss, Liechtensteiners, Luxembourgers, Transylvanians, Mennonites and some Slovenes and Brazilians speak German, but don't want the German army to come marching in (again).
In the referendum for Ukraine's independence, over 92% voted for independence nationwide. In Odessa it was 85%, in Donetsk and Luhansk 84%.
For the people of Ukraine, it is not a choice between two countries anyway, but the difference between freedom and dictatorship. After all, the refugees from eastern Ukraine did not flee because the authorities now require them to speak Russian (which they are all fluent in), but because they do not want to be bombed, nor imprisoned without trial, nor tortured.
Moreover, young people like Alexandra and Anna feel European, at least since 11 June 2017. Both of them still have that date etched in their memory. That's the day when Ukrainians were first able to travel to the European Union without a visa. Thanks to cheap flights, they can be in Athens, Riga, Warsaw, Wroclaw, Milan, Budapest, Rome or Berlin in an hour or two. They are much more interested in Greece, Italy or Germany than in politics or the war in their own country.
Kyiv is far away, Moscow even further.
Yet farther removed from the value system of the young ladies are men who only pay for their own can of Coca Cola. That way, I make sure that I can spend the rest of the day alone. Which is good, because my life, too, is a constant struggle for freedom and independence.
33
As I reach the National Scientific Library, I can still spot the person walking away with the last books. Again, I am left empty-handed.
A poster outside of the library points to a digital collection "Treasures of Ukraine". – Two years later, libraries and museums all over Ukraine will be feverishly digitalizing, hiding paintings in basements, protecting statues with sandbags. Like the one for Count Richelieu in Odessa.
34
If anyone believes that Ukrainian is easier than Russian: Don't even think about it!
Ukrainian, too, has seven grammatical cases and for the inflection of nouns differentiates by genus, declension class, and, depending on the hard, soft or mixed ending, additionally by subgroups of the respective declension class. With exceptions for the prepositional locative, of course.
And I don't even want to get into verbs and adjectives.
35
Not exactly overwhelmed, but slightly annoyed by this was Ludwig Zamenhof, an ophthalmologist who lived in Białystok and in Warsaw from 1859 to 1917. Both these cities are in Poland now, but at the time, they belonged to the Russian Empire. He spoke Yiddish with his mother, Russian with his father, and Polish and Belarusian with the neighboring children. His father was a teacher of French and German, so Ludwig picked up these languages en passant. He also learned Latin, Greek, English and Hebrew at school. (Why such a person becomes an ophthalmologist instead of a foreign correspondent or a secret agent is anyone's guess. Probably the influence of a petit-bourgeois upbringing. As with so many of us, who have had our dreams beaten out of us.)
Anyway, Ludwig Zamenhof developed Esperanto, an artificial language, so that all people of the world could become friends. The lofty dream didn't quite come true (I suspect because English is pretty easy to learn and has effectively taken over the role of world language), but as many as 2 million people speak Esperanto.
I have to think of this, as I take a look into the courtyard of Deribasivska Street no. 3. There, among the clotheslines, stands a statue of the benefactor of world peace and universal communication.
36
It is worthwhile to take a look through the open gates and to sneak into the inner courtyards, where another Odessa shows itself. A hidden, private Odessa, where time seems to have stopped decades ago, where children can play in the past, where you still repair your own car on the weekends, where you share with neighbors whenever you have cooked something, and where Ostap Bender from chapter 17 carries out his shady business.
37
If the courtyards are not secluded enough for you, Odessa offers an even better hiding place: catacombs. A whole lot of them. Depending on whom you ask or where you look, there are 2000, 2500 or 3000 km of underground passages.
They were created rather accidentally. For the construction of all the pretty houses, shell limestone was dug from the ground, which then left tunnels up to 60 meters deep. At some points, there three levels of catacombs. They were useful for smugglers, as an adventure playground, but especially for Soviet partisans during World War II. Despite the capture of the city by German and Romanian troops, this allowed some resistance groups to carry on fighting.
Today, mainly stupid tourists die there, because they get lost in the labyrinth of catacombs. There is no risk this will happen to me, because I'm already too stupid to find the entrance.
38
The Museum of Western and Eastern Art on Pushkin Street is one of those museums where the building is more interesting than the exhibition. But quite fitting to have Western and Eastern art meet in this melting pot of Western and Eastern Europe.
If the museum attendant in the corner is guarding Napoleon, or if Napoleon is guarding the museum lady, I don't know. But it looks like they have gotten to know each other so well over the decades of her working here, they don't need to discuss the geopolitical situation yet again every day.
Museum ladies in Eastern Europe are a type of their own. Usually beyond 55 years old, with home-knitted jackets and thick sweaters. Comfortable slippers on their feet. As if they were at home in their living room, they walk through the palaces they are guarding. They are educated, often art historians, literary scholars, Orientalists, Romance scholars, English scholars, who did highly esteemed work at academies, institutes and universities in the Soviet Union, but for whose skills capitalism no longer has any use. Never do such unkind sentences as "No photography allowed" cross their lips. Instead, they look at you as if to say, "Oh boy, you look so skinny. Do you want some potato soup?"
After the exhibition about looted art returned to Ukraine, I come to the not yet returned art looted from Japan, China and Mongolia. I see; West and East in the name of the museum do not only refer to Europe.
I should really get rid of this eurocentrism by taking that train to Asia as soon as possible.
39
I had planned to go to the Fine Arts Museum next, but Yaniv calls and says we urgently need to go the Food Market, because it will close tomorrow.
In a large hall, which somehow looks like a former slaughterhouse/swimming pool/theater, there is all the food on two floors that you can also get anywhere else: pizza, gyros, burgers, hummus.
Why are they closing, I ask, because it looks popular and busy.
"They have to renovate," Yaniv points to the ceiling. "After that, a new project is supposed to come in here, but no one knows anything for sure." The construction boom in this city has really spiraled out of control.
But the pizza tastes solid.
40
Even much larger than the Food Market is Privoz Market. Several halls, each as large as an airship hangar.
One hall for fruits, one for vegetables, one for bread and pastries, one for cheese. In the fish hall, the produce is still alive, with fish, crabs and shrimps snapping for attention.
The meat is no longer alive. As proof, the saleswoman cuts slice after slice for me to taste. After also sampling carrots stuffed with cream cheese and cheese wrapped with eggplant, I'm already full without having bought anything.
There are fruits here that I have never seen before. Fish that I never wish to see again. But no books.
41
"Ah, you're looking for books?" asks Yaniv. "There is a market in front of the trade union building."
That's fortuitous, because I wanted to go to that tragic union house anyway. However, I quickly realized that even though it's right next to the train station, people like to overlook it. No one mentions it on their own. No one wants to talk about it. And if they do, it remains vague and obscure. It is a taboo subject.
As if back then, on 2 May 2014, something was unleashed that the survivors themselves were shocked by. Like a ghost from the vodka bottle, which the Odessites, both the pro-Ukraine and the pro-Russia ones, wanted to push back into the bottle, and then cork it up tight and throw it into the sea.
The union building has been empty ever since. The large square in front of it, once used for public festivals and parades, is deserted. A boy is trying out his moped, driving around in a wide circle.
The fence is decorated with flowers and photos for the 42 people who died. But very small, as if to avoid accidentally lighting a fire that everyone hopes will never flare up again. No flags, no national symbols, no big slogans. Even the Christmas tree is rather modest.
And there is really a book market here. In the freezing cold, the vendors are keeping up the literary supply for the city. However, only in Russian and Ukrainian. The only books in English are "English for Seamen" and "English for Mariners".
42
That reminds me that I could actually show you the port. After all, that's not an irrelevant institution in a port city.
Just like tourism, the port of Odessa in a way benefits from the Russian occupation of Crimea and of eastern Ukraine. When all other ports of the country are occupied, blocked or dangerously close to the frontline, the only remaining free port can't complain about business and prefers to stay out of politics.
Kyiv is far away, Moscow even further.
As I sadly never went to sea myself, nor worked in a port, I don't know what to tell you about all the cranes and ships and containers. I suppose this is where global commerce is conducted, where wheat is exported and plastic is imported. This is where all the bribes, corruption and smuggling happens. There are farewell dramas and joyful reunions. Oh, what a treasure trove of stories a port would be, if only I had learned something useful and could sneak my way into this realm with a forklift license.
But I can tell you more about the sailing vessel: This is Druzhba (friendship), a training ship. Now, that windjammer is a beautiful incentive to join the Naval Academy, isn't it? Unfortunately, the ship has been laid up, awaiting repairs, for 20 years already.
The red ship next to it is the search and rescue ship Oleksandr Okhrimenko.
The ship in the front with the license plate number F130 is the frigate Hetman Sahaydachny, the flagship of the Ukrainian Navy. In March 2022, it will be sunk during the Russian attack on the port of Mykolaiv, probably caused by the Ukrainian crew, who wanted to prevent it from falling into Russian hands.
The Mykolaiv shipyard also produced the guided missile cruiser Moskva, which two years later, as the flagship of the Russian Black Sea Fleet, together with 13 other Russian ships, will blockade the port of Odessa and threaten the city. – Until it will sink. Maybe the Russian sailors knew the movie "Battleship Potemkin" (chapter 12) and dared to repeat history.
I don't suspect any of this yet, though, as I am surveying submarine hunting corvettes, patrol boats and other cutters.
But I think I better get going. Because navies don't like it at all when curious landlubbers take photos of their ships. That can get you under suspicion of espionage in no time, as I once experienced on a naval base in Montenegro.
43
And there I finally stumble upon them: the real Potemkin Steps.
It was clear that I should have looked for them near the harbor, since the stairs are the gateway to the city for all those who arrive by ship, as was customary before the invention of the railroad, the automobile and the airplane.
What a view after weeks of sailing on the high seas! Like a mountain, the steep steps are towering over the harbor. You would need binoculars to recognize the people at the top, as if looking for someone on a far-away ridge.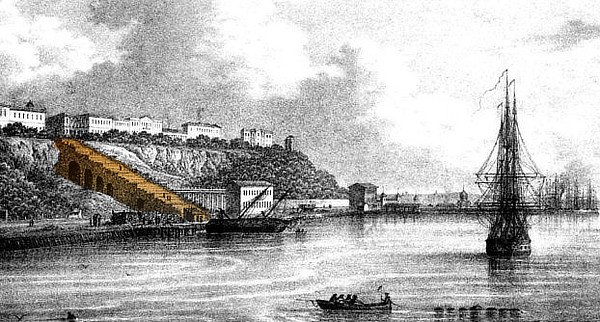 And the promise that this almost unconquerable mountain of steps holds! Whoever is able to climb this staircase will, or indeed must, be rewarded with a city that is worth it. After such an entrance and ascent, there simply cannot be some mediocre little harbor town. Whatever you left behind, the journey to Odessa was worth it, you already know it in the moment you step off the boat, long before you reach Primorsky Boulevard.
Once up there, after 200 steps, you are indeed welcomed by generous parks, wide boulevards and splendid palaces.
Playing a role in Sergey Eisenstein's film (see chapter 12) is not the stairs' only claim to fame. They are also architecturally impressive. Throwing back your glance, you see, well, unfortunately an ugly hotel building, but do you notice how close the harbor looks? It looks like it's just a short walk down the stairs.
As a reminder and for contrast, take another look at the steps from down below.
The stairs were deliberately designed in a way that when standing at the top, you can see only the landings, but no steps, which brings the port closer to the city. From below, on the other hand, you see only steps, but no landings. But the fact that the staircase looks endlessly long from below, almost reaching into the sky, is mainly due to another architectonic trick. At the bottom, the stairs are 21 meters wide, at the top they measure only 13 meters. From below, the distortion in perspective creates the illusion of a distance that doesn't exist, while from above, it removes the difference in distance. Ingenious!
44
A similar illusion are the bookstores indicated on the city map.
They have all been replaced by bars or kebab shops. Sad.
45
Close to the apartment, on the corner of Dvorianska and Pastera Streets, a woman is selling fruits and vegetables late at night.
"Emil, would you please translate for the customer that one kilogram of apples and the lemon cost 45 hryvnia," she asks her son, who is about 12 years old and sitting next to her, playing on his cell phone.
He shyly does as instructed, and his mother's Scythian gold teeth gleam with pride.
46
Because you can't meet anyone in Odessa early in the morning (see chapter 28), I take the bus to the site of the former 411th Soviet Coastal Defense Battery, where there's still a bit of equipment from World War II standing around. You never know when you might need it again. And in the meantime, it serves as a playground.
Or as a place for romantic dates: "I swear eternal love to you, by the honor of the glorious Black Sea Fleet, and I will fight for your heart like the 255th Marine Rifle Brigade once did for the coastal stretch between Chornomorske and Novofedorivka."
Unfortunately, the enamored couple and I picked the coldest day of the week. As I am climbing around on the submarines and rocket launchers, my fingers almost freeze to the steel.
47
Two years later, an icy chill overcomes me yet again as I look through my photos. In front of the small "Museum of the Heroic Defense of Odessa", which is of course still closed so early in the day, a map shows the siege of the city in 1941.
Thick arrows of enemy armies pointing at Ukrainian cities from all directions, this has sadly acquired a renewed relevance in the spring of 2022.
The map shows the situation from 5 August to 16 October 1941, when Odessa was besieged by German and Romanian troops after the German attack on the Soviet Union. According to the Soviet interpretation of history, World War II only began with that campaign. An understanding of history which is also kept alive in Odessa, as this monument shows.
The Soviet Union evacuated part of the civilian population by sea. To prevent the ships from chugging along empty on the return trip, they brought back reinforcement troops. Together with the population remaining in Odessa, they built three defensive rings around the town.
The fortune of battle went back and forth, as you can see from the blue and red arrows on the map, but in the end, the attackers captured Odessa. However, because the city had withstood more than two months of siege, it was declared a Hero City and was henceforth allowed to wear the Order of Lenin, which it now proudly does at the train station (see chapter 2).
And now, once again, Odessa looks like it did in 1942, with sandbags and tank barriers in front of the city's cultural monuments.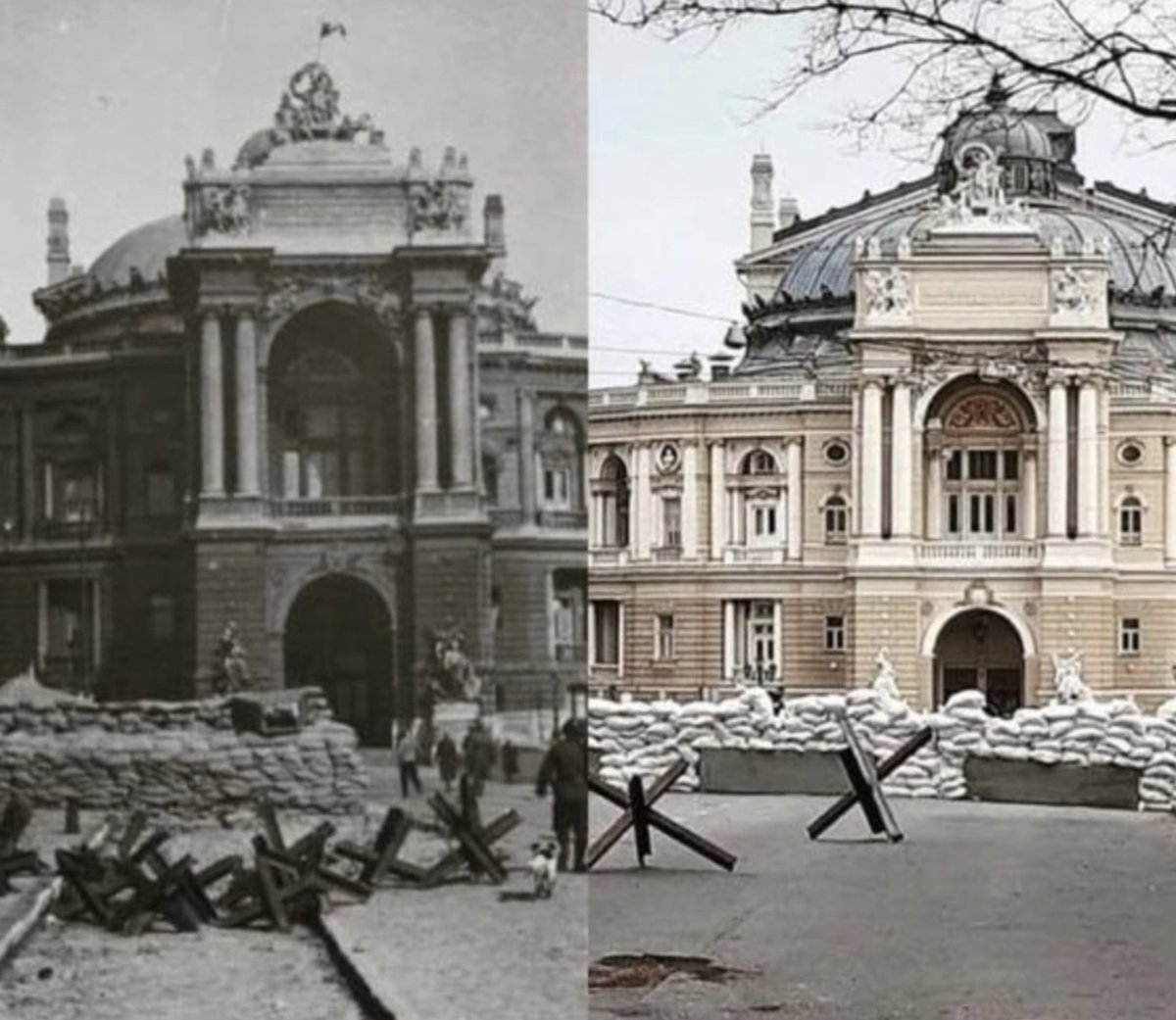 48
The bus driver on bus no. 175 refuses to accept the fare: "No, no, you don't have to pay until you get off." And even then, probably only if you were fully satisfied with the ride.
For passengers who go only a few stops, he waives the fare altogether, I notice.
What a difference from Kyiv, where even the privately nicest people become unfriendly as soon as they put on the uniform of a transport company or a supermarket. In contrast to the capital, Odessa seems much more relaxed, friendly, easy-going. I think I could live here.
49
On Torhova Street, an old woman with a headscarf stands on the sidewalk, selling pastries. Different ones, but all of them look tempting. She has a rickety wooden stand with a microwave oven, the cable of which leads to the pharmacy behind her. In return, the pharmacists probably get to eat for free.
The woman insists on packing the pastry in a plastic bag, although I am trying to signal that this hurts my environmental conscience. Besides, I am hungry right now.
A few meters away, I sit down on a bench, take a big bite and discover that although it looks like a sweet pastry, the dough is filled with meat and cheese. After eating half of it, I am filled, too, and now I understand the purpose of the bag. One pastry is enough for two meals.
50
By the standards of Odessa, the Museum of Fine Arts is housed in an almost modest building. This was the summer residence of Count Pototsky on Sofiyivska Boulevard, just in case you are looking for it. In Odessa, many people still refer to houses not by the street address, but by the name of the family who first lived there.
Here, too, several women in warm sweaters are sitting at the counter, each of them absorbed in a book. One of them interrupts her reading to sell me a ticket. 35 hryvnia for students, that's about 1 euro. At the next door, another woman interrupts her reading to scribble something on my ticket. Probably to prevent me from selling it on the black market.
As I enter the first hall with paintings, there is a guided tour underway. But in Russian, so I abstain and explore the museum on my own. Only once do my ears catch a familiar name. Ivan Kramskoi. In Kyiv, I had lived on Ivana Kramskoho Street and it took me a month to understand that this is not a woman's name, but the palatalized third-degree ablative of Ivan Kramskoi, a grammatical form only to be used to denote streets running in a north-south direction.
Here, too, old women in wool sweaters and wool caps are sitting everywhere and reading, as still as if they were posing for a painting by Kyriak Kostandi.
Crimea, the peninsula inaccessible since 2014, is longingly depicted in a whole range of paintings.
The wooden staircase to the upper floor is so crooked and askew, that I'm afraid I won't make it to the 20th century section alive. But carefully, I do, and I get rewarded with Soviet art. As with the opera in chapter 18, here, real-life scenes are immortalized: Workers read news of the record coal production by the miner Alexey Stakhanov. Rebellious sailors from the battleship Potemkin (see chapter 12) carry Vakulinchuk's body ashore. Just regular everyday scenes, as you have all experienced them at the factory or in the kolkhoz.
51
After one week without books, I miss reading so much that I go to the train station and desperately ask for international newspapers.
Süddeutsche Zeitung? – No.
Spiegel? – No.
New York Times? – No.
Economist? – No.
El Pais? – No.
Do you have any international newspapers? – One moment, I'll go and look in the office… We still got the South China Morning Post.
Well, at least something in English. So I listlessly read about Hong Kong, Malaysia, container ships and Alibaba, until I discover a small news item on page 19: "Multiple cases of SARS-like corona virus at Hubei Xinhua Hospital. Authorities close fish market in Huanan."
On that day, 21 January 2020, I know: This will be the apocalypse.
I immediately look for a house-sit on an island as remote and virus-proof as possible, find one in the middle of the Atlantic, and book a flight leaving Odessa the same evening.
52
The airport building is so old, I am surprised not to find any hammer and sickle here. If there weren't already other passengers freezing, shivering and waiting, I would think that I have gotten myself lost. Some concrete, some fake marble, plenty of asbestos, partly falling from the ceiling. Maximum temperature inside the building is 10 degrees. There is so little light in the corridors, when you want to look for a bathroom, you need to use your cell-phone flashlight. The wallpaper is coming of the walls.
I follow the A4 paper indicating the was to the smoking room. Maybe that's where they have the comfy chairs and the cozy fireplace.
No, it's a small room, tiled like a slaughterhouse or a dairy. What qualifies it as a smoking room is only the fire extinguisher, which has been keeping the door open since it was left over from the Chernobyl disaster in 1986. Completely open, so that the smoke can spread through the whole airport.
Across the tarmac runs a large, skinny, white and seemingly stray dog. If it had been one of the fat cats, I would have taken it with me in my backpack.
53
The next day, in a Facebook group about Eastern Europe, someone asks if one day is enough to visit Odessa. I don't reply because I find such questions and the answers to them pointless. As I feared, someone, even a local, responds: "In one day in Odessa, you can actually see everything there is to see."
Someone doesn't know their own city.
But people who have struggled through this long article are probably not in danger of rushing through cities like that anyway. Better take your time. As you can see, it's worth it. And after the war, a visit to Ukraine would be a welcome contribution to the reconstruction of the country.
Links:
Speaking of the good old mail service, the post office in Odessa is quite impressive as well.