"Little Napoleon wants to be picked up on platform 2, please. And hurry, or he'll lay waste to the whole town!"
Only when I hear this announcement and look out of the train window, I realize what should have been obvious all along: Waterloo, that word on everyone's lips and wafting around in the collective memory of mankind, is a real place. A rather average small town in Belgium, to be precise.
By the way: The name Waterloo is Dutch, so you don't have to pronounce it in English just because ABBA have messed it up. However, the town is on the French-speaking side of the inner-Belgian language border, so you'll have to parlance French there. But be careful if you take the train from Brussels, because the route crosses Flemish territory for a short time. Between the stations of Linkebeek and De Hoek, you have to speak Dutch. English is also possible, but only if you are not Belgian. German, however, is forbidden, because German is one of the Belgian national languages, but only in another, separately designated part of the country. (Yes, Belgium is really that complicated.)
I react too slowly and thus only get off at the next stop: Braine-l'Alleud.
But this is not even wrong, because it is here where you find the world-famous battlefield, the acres of agony, the meadows of mayhem, the pasture of pain. Still, more than two hundred years after the fateful battle of 1815, the ground is drenched in blood, the clouds hang low, and the sky weeps.
That is to say, perfectly normal weather for Belgium.
Why anyone would schedule the battle of the century exactly here, of all places available, is beyond me. But Napoleon had a soft spot for depressing locations: Borodino, Ulm, Austerlitz, Jena, Moscow, Landshut, Leipzig.
It should therefore not come as a surprise that between battles, he often withdrew to isolated islands to recharge his batteries. (From a travel blogger, you now rightly expect links to reports about Elba and St. Helena. But since I haven't been there yet, I'll instead provide a link to my report from Caprera, where another great, combative, but all the less controversial person of European history spent the last years of his life.)
If you know Belgium, you already noticed something in the photos of the Waterloo battlefield. If you don't know Belgium, you noticed nothing. And it is precisely this nothing that puzzles me.
Because all of Belgium is dotted with military cemeteries and mass graves. There is no village that does not have two or three of them. And even between the villages, in the open countryside, you stumble across thousands of corpses each time you go for a walk.
Only in Waterloo, there is not a single grave to be seen. Although the most famous battle in the history of the world was fought here. Somewhere, the 20,000 to 50,000 dead must have been buried, though. Not to forget all the dead horses, dogs and military cats.
But more on that later, because now – and it will remain the only joyful event of this gray winter month – the sun comes out. There is the Lion's Mound, visible from afar and of rather practical use in a battle. However, as is often the case with large infrastructure projects, it was not completed until ten years after the battle. A tiny problem with the building permit or a shortage of construction material because some drunk captain blocked the Suez Canal, and poof, Napoleon lost the battle of his life.
Although there is a bitterly cold wind blowing, I drag myself up all 226 steps – everything for you, esteemed readers – in order to let my gaze roam over relatively unspectacular fields. I still don't understand why you don't just lead your army around the field when you know the enemies are waiting there. But then, I didn't attend the military academy.
And I still don't see any graves. Nowhere.
Instead, there is a rotunda to marvel at, in which a 360-degree panorama of the Battle of Waterloo is shown. The building itself is also quite interesting, the whole interior is made of wood, with creaking stairs. The sound of battle is played over loudspeakers, and a few papier-mâché soldiers are dying in the most dramatic fashion, holding their stomach in horror.
This Waterloo Valhalla is supposed to take you back to the time of 1815, but I feel more like 1911, when the monumental artwork was opened, when the heroisation of battles and soldiers was still en vogue, and when no one could have guessed that just three years later, poor little innocent Belgium would become one of the main theaters of World War I.
Meanwhile, I have come up with a theory as to why there ain't no graves around here.
Hold on to your hats, ladies and gentlemen: I actually think the Battle of Waterloo never happened.
I believe that Napoleon, Wellington and Blücher had no desire to fight yet another battle. Especially in such bad weather. They went to a cozy Belgian pub (best beer in the world!) and played cards instead. In the process, Napoleon wagered his hat, lost, and had to retreat. As men of honor, however, the three generals agreed, of course, that they would tell the press the story of an enormous battle. As Freemasons, they kept their word until their death.
As evidence for this theory, I point not only to absence of soldiers' graves around Waterloo, but also to the fact that Napoleon's hat is on display at the German Historical Museum in Berlin.
At the museum in Braine-l'Alleud, on the other hand, they show exactly one skeleton. A battle with supposedly tens of thousands of dead, and then there is one skeleton? Which doesn't even have a name. Even some peasant skeletons that wandered across the Alps 5000 years ago have a name.
The museum is a subterranean one, like an underground garage under the battlefield. This means that there must have been quite a lot of digging going on. And during that whole excavation, they only found one skeleton!
I mean, it's pretty obvious that something is fishy here. Don't you think?
But because this is a scientifically, academically, morally and intellectually honest blog with a strict honor code, I will not conceal the fact that the three historians Bernard Wilkin, Robin Schäfer and Tony Pollard have just published a different theory. It goes like this:
The dead, both soldiers and animals, were buried on the battlefield in the days and weeks following the battle in June 1815. This was done by the local population, because the surviving parts of the army had already moved on; off to new adventures. Whether the people around Waterloo were forced to do this, whether they did it out of piety, or whether they thought "that's good fertilizer" is unclear. We should also keep in mind that burying soldiers yields clothing, boots, weapons and perhaps even tobacco for the gravediggers, so the work may well have been worthwhile.
From 1819, four years after the battle, the newspapers on the European continent suddenly began to publish tons of advertisements from British merchants desperately looking for bones. They would buy up all bone material, without quantity limits and at good prices. Because of the proximity to the seaports, these ads were placed mainly in northern Germany, the Netherlands, and France. (Belgium did not exist at that time; it would not come into existence until 1830 when it seceded from the Netherlands. Actually, Germany didn't exist yet either, to be precise.)
The great thing about the bone trade was that it was unregulated. There were no export taxes, no import taxes, no customs duties. There weren't even EU directives or regulations concerning the bone trade. (That's why the British were still happy at the time.) It was a lucrative source of revenue, especially for the poor on the continent.
The farmers around Waterloo thought it only fair to dig up the piles of bones again and turn them into money. After all, the armies had trampled the entire harvest in 1815. Incidentally, this is a tradition that is being repeated every year in June ever since:
Honestly, if I were a farmer at Waterloo, I think I'd get between the lines of those re-enactors with their big bellies, fake mustaches and hidden cell phones and blast a few of them over the head with real buckshot. Maybe that would teach them that war is not a fun weekend in the countryside.
But back to the story: What the heck did Britain need bones for?
Well, you need to know that bones contain phosphate. And phosphate is a good fertilizer.
For centuries, the British (and many other peoples) had fertilized their fields by emptying their chamber pots in the field, to describe it in the least unappetizing way possible. Those of you living in the countryside know it all too well, the dirt, the smell, the manure, all the disgusting stuff. But at the time, the Industrial Revolution (and cinema) drew people to the cities. The rural exodus led not only to a lack of workers who would work the fields, but also to a lack of human feces.
Hence the panic search for bone material.
Of course, the traders were looking for horse, cattle and whale bones. But, in times of need, you also put a Prussian or a Frenchman into your field. No one is looking that closely, and everything is crushed into bone dust anyway.
That went well for a few years. But as is always the case with new businesses, regulation soon followed. Export duties were imposed. Health regulations were enacted, prohibiting the temporary storage of bones at home. And finally, opening graves was made a crime. (At least for European graves. In Egypt, of course, people were allowed to keep digging for all they were worth. That's why we are still suffering from the curse of Uncle Tutankhamun).
The British did not want to yield to this over-regulation from Brussels, and sometimes I myself am surprised at the constants that world history has in store for us. To make matters worse, a better fertilizer was discovered, namely saltpeter. It came from the desert in Chile, from the town of Humberstone, which I have already explored for you.
On that trip, I almost died of thirst. The Atacama Desert is really as dry as they say. One day, it will kill me that I always want to check everything myself. Like back in Bolivia, when I wanted to test how altitude sickness feels. Or in Montenegro, where I climbed into dark shafts and discovered a secret submarine base. Let's see what I will come up with in 2023.
But back to the bones. From the 1830s, the sugar industry took the place of British agriculture as a major buyer of skeletons of all kinds. And now it becomes really mind-boggling how politics, wars, economy, agriculture, science and just about everything is connected. That's why history is so much fun!
In Europe, there was originally no sugar production. All sugar came from sugar cane plantations in the Caribbean and other colonies, which is why sugar is not only bad for your teeth, but also responsible for slavery. In 1806, as part of the small conflict that ended with the Battle of Waterloo, Napoleon imposed the so-called Continental Blockade, an embargo against Great Britain and its colonies. Imported cane sugar became prohibitively expensive.
Unfortunately, people in Europe had already become accustomed to sugar. (That stuff is addictive, after all.) Thus, resourceful researchers set about finding a substitute. The German food chemists Andreas Sigismund Marggraf, Franz Carl Achard and Carl Scheibler experimented with various beets and eventually refined the regular beetroot into sugar beet.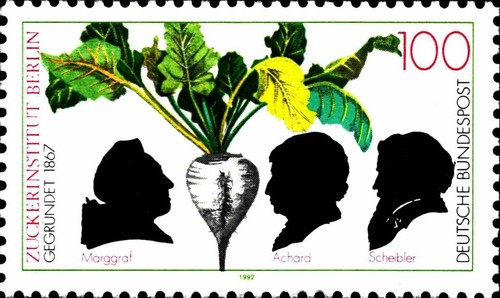 And so, wherever the soil allowed it, sugar beets were grown and pressed into syrup. However, to generate the refined white sugar that pampered customers insist on, it has to be filtered. And this filtering is done with – you already guessed it – bone char. The sugar industry needed tons and tons of bones to make the sugar look pure and white.
And the industry was booming! Here, for example, you see the Royal Belgian Sugar Refinery.
But oops, what is that in the background?
No, that can't be the Lion's Mound from the battlefield of Waterloo, can it?! They would never put the sugar factory right next to the battle field! After all, that could give people the idea that the factory is crushing the soldier's bones into refined sugar.
Well, as Horace said: "How sweet it is, to die for the fatherland!"
Because Belgium suddenly had so much sugar, it needed cocoa to build up its world-famous chocolate and pralines industry. Where can you find cocoa? That's right, in the Congo! Again, everything is connected to everything else, this time in a particularly tragic way. To put it in a nutshell: If the Prussian engineers had not experimented with beetroot, the Congolese would not have had their hands chopped off. And it's better not to think about why Kinder chocolate is called that way.
On the fields of Waterloo, as if to confirm the theory of the fellow historians, they are still growing sugar beets.
Because the local restaurant is too expensive and because the museum pulled the last euros out of my pocket, I pull a few beets from the field – for compensation. All the way back, I'm excited that I will have real Waterloo battlefield sugar beets, with residues of gun powder, for dinner. Only when I get home, I remember that I don't know how to cook.
In the end, I simply chopped the beets and fried them in a pan. It was actually quite good. Napoléon appétit!
And, what edibles have you already pulled from world-famous battlefields? Gherkins from Gettysburg? Sweetcorn from Stalingrad? Tuna from Trafalgar?
Practical advice:
It may seem counterintuitive, but Braine-l'Alleud station is closer to the battlefield than Waterloo station. From there, it's only a few kilometers on foot. Or you take the bus with the "W" (for Waterloo) from either station.
The battlefield itself is open and accessible free of charge. The farmers only ask you to stay on the paths.
For the museum, the panorama and the hill, however, you have to dig deep into your pocket: 17 euros or 16 euros for students. I found that rather expensive.
The local restaurants are also expensive, so you better bring your own provisions.
Denzil from the Discovering Belgium blog has put together a neat walking guide around the battlefield.
For absolute Napoleon fanatics, there is a 90 km long Napoleon route in Wallonia, along which about 150 museums, monuments and important places are lined up. Bu I think they only get to such a number because they list every tree stump that Napoleon rested on. (Like with Garibaldi in Italy.)
Links: