Zur deutschen Fassung dieser Träumerei.
---
You hopefully all remember my dreamy plans of the longest possible train journey? From Portugal via Spain and France through Central Europe to Russia, then branching off to Mongolia, through China and finally to Vietnam. All the way to Saigon, from where the older ones among you will remember the relieving feeling of having hopped on the last helicopter in 1975.
No, wait, that was Afghanistan in 2021. Well, it's easy to confuse those things if history keeps repeating itself.
Anyway, back to train travel, the rail-bound trip around the world thus far found its end in Vietnam, because there were no trains from there to Cambodia or Laos.
I guess I should include a map at this point, because for us white folks, all South-East-Asian jungles look the same. So, please, orient yourself in the Orient:
There is still no train from Vietnam to Cambodia or Laos.
But China, which as a country is something like that neighbor who goes to the hardware store every few days because he is bored and then builds new carports, dormers, gazebos, swimming pools and hatchways, is not only covering its own country but also its – very generously defined – neighborhood with large-scale projects that make the DIY guy burst into flames with envy.
A few days ago, a new railroad connection between China and Laos was inaugurated. So now you can get from Kunming via the border town of Boten to Vientiane, in the very south of Laos. Everything on one cozy express train!
There is a map for this purpose to, thanks to the man in seat 61: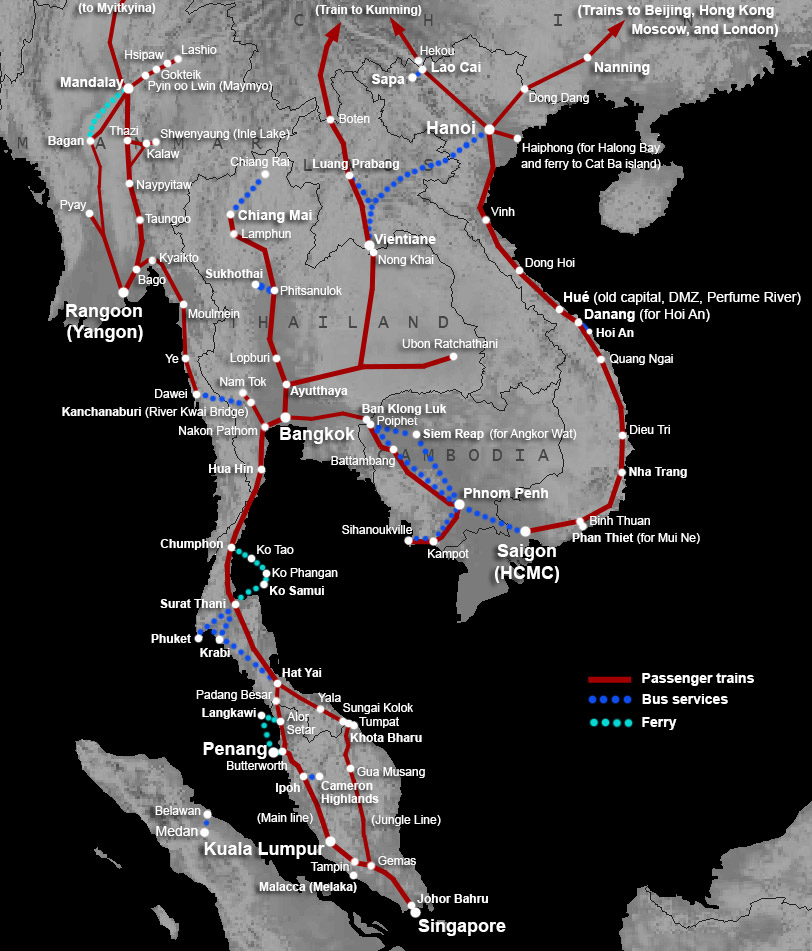 As you can see, you can then take the train from Vientiane to Thailand, where you have to interrupt the trip for a couple of years because you'll be in prison for lèse majesté. But if you survive that, the train will continue to Malaysia and finally to Singapore, the small independent tip of this long peninsula.
Actually, I have been to Singapore once, on a stop-over on the way to Australia. That was in 1992. Back then, planes were still unionized and had to take breaks on such long flights. The boring passengers went into the duty-free shops and marveled at those new telephones without a cable. The brave passengers, like myself, got lost in the hustle and bustle of underground markets selling monkeys, turtles and bats with all sorts of zoonotic diseases, dropped in on opium dens, and found their way back to the airport just in time, all without a smartphone. And all in constant fear of the notoriously strict Singaporean police.
The same strict Singaporean police will probably arrest me when, after 20,000 leagues on the train, I just want to sit in the park and enjoy the first cigar after months of deprivation. Well, people have been fried and died in the electric chair for more boring stories. (A reader informs me that in Singapore you don't get electrocuted, you get hanged. Thanks.) Either way, in Singapore the journey will be over, because there is no train to Indonesia or Australia. Yet.
Honestly, isn't it fantastic how far you can travel without having to get off the eco-friendly, comfortable and romantic railway?
And even if you live in an unknown village behind the forgotten forest, as long as it has a train station, you are connected with the world. (At least if you live in Europe or Asia. For other continents, I have to come up with other ideas.) From Blackpool to Bangkok, from Milton Keynes to Kuala Lumpur, from Siracusa to Singapore, everything is possible!
Now all that's left to do is finding a newspaper that is willing to finance this little endeavor in exchange for a weekly report from the rails…
Links:
More articles on train travel.
The best site for planning international rail travel is Seat 61.
If you know some of my train-travel stories, you have an idea what I would make out of such a journey. And if you find that a worthwhile project, I would be very thankful for your support.