Whether I cross the Canadian prairie with old-order Mennonites, steam to Stockholm in a frenzy of unconnected connections, or whether I am dreaming of "the big one", train journeys are quite popular on my blog, it seems.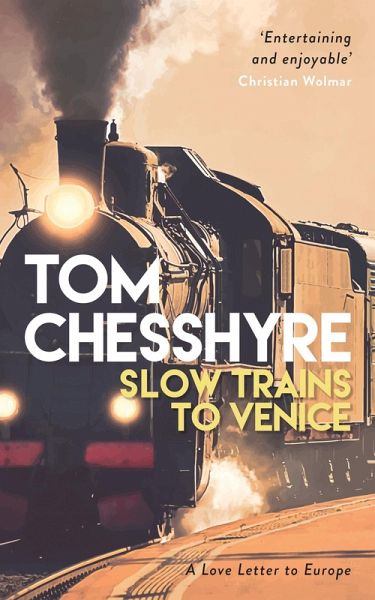 Apparently, publishers are trying to cash in on that trend. It's the only explanation I have for why some stuff gets printed. Like Slow Trains to Venice, in which Tom Chesshyre recounts a 30-day train journey from London through Central Europe to Ukraine and then south through the Balkans to Italy.
And recounting really is the right word. Half of the book is a boring listing of departure times, train stations, speed, distances and engine types. It's like his notebook, jotted down during the trip, was then published without any revision. And without any editing. Or if there was an editor, he/she quickly fell asleep, which is no surprise when you read paragraphs like:
A red and white train pulls in. I board the red and white train. Belgian Rail is what I am calling the train service of Belgium, and its website is indeed belgianrail.be. […] (page 61 et seq.),
or the countless detailed descriptions of the hotel rooms he is staying in. It's okay to describe a hotel room once in a while, but if you do it every night, it just shows that nothing else is happening. And maybe that's no surprise if you only give yourself 30 days to travel through half of Europe. Mr Chesshyre comes across as a decent and nice guy (quite unlike Paul Theroux of incomprehensible train-travel-writing fame), and on the occasions when he gets off on a whim and spends a night in a small town, like in Vrbas in Serbia, in Slavonski Brod in Croatia, or in Zidani Most in Slovenia, the reporting can be good and interesting.
But with a little more time than a few hours here and there, he would have really gotten to know places and people. And with some research and editing, the book wouldn't be full of annoying mistakes. Just a few examples:
When he tries to explain the language situation in Belgium (page 62), he completely forgets the third official language (German) and totally misses the point about Belgian language policy. I know it's complicated, but you could have read all about it here.
I really have no idea what Mr Chesshyre means when he calls Bonn "Germany's de facto capital from 1949 until the reunification in 1990" (pages 74 and 80). Bonn was the capital city of West Germany. There was also East Germany, whose capital city was (East) Berlin. Not de facto, but de jure. If there was anything de facto about Bonn as a capital city, it was from 1990 to 1999, not before. I know, that's really petty stuff. But I always think: When I spot such glaring mistakes in the sections about one country that I know about, how can I trust anything he writes about Serbia or Slovenia?
A more serious error, especially considering that Mr Chesshyre heralds himself as rather knowledgeable on all things train-related, publishing a train-travel book every year: When he complains (on page 92) that "it is really quite difficult to take a slow train in Germany", I wonder if he has ever been in a train station in Germany for more than half an hour. Or on the website of Deutsche Bahn. You can take a slow, by which he means regional, train from any station in Germany at least once an hour in any direction. From 5am to midnight. Every day. Everywhere. All across the country.
But he probably had simply run out of time and needed an excuse to take the fast train, cutting through Germany as fast as he could. Which is maybe better, considering how little he knows or cares to learn. In Leipzig, he muses that the protests towards the end of the GDR began in that city because it had no Stasi headquarters (page 95). Well, you can already guess by now: It had. It's a museum now.
By the way, I've just been to Leipzig, interviewing for a house/cat sitting job, and it has a seriously impressive train station.
But then, what to expect of a Brit who crosses the Channel tunnel with this attitude?
I am on European Union soil, with its funny rules written by funny bureaucrats with funny accents. (page 25)
Well, people with accents at least speak a foreign language, often two or three. And they know that the European Union is not run by bureaucrats, but by elected politicians. And as to funny rules, I can't possibly imagine anything funnier than the rules in the United Kingdom.
Lazy reporting, lazy writing, lazy editing.
Seriously, you can gain more insight into Europe when I am on the train for only two days, whether wild awake or sound asleep.
Oh, and I got the job in Leipzig, so I will be spending the summer of 2022 there!
Links: