Many visitors are surprised when, in the center of the German capital, right next to Brandenburg Gate and Parliament, between plenty of other monuments, and only a short walk from the train station, they see two Soviet tanks and an impressive Soviet War Memorial.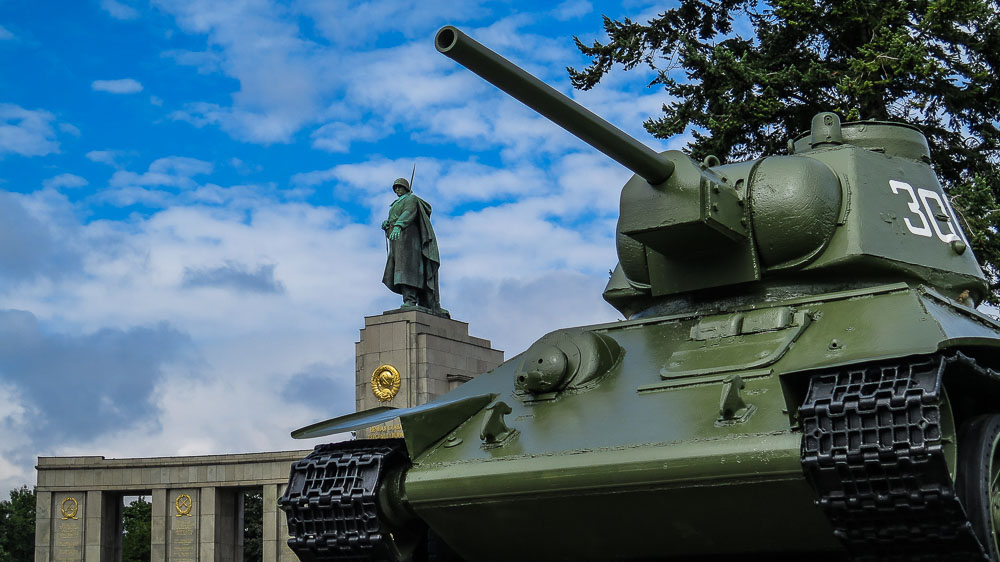 Every year, hundreds of thousands of visitors excitedly snap photos of the Tiergarten Memorial, thinking they have been to the Soviet War Memorial in Berlin.
In reality, they ain't seen nothing yet.
For the real thing, you gotta hop on the S-Bahn to Treptower Park and walk towards said park, where soon, through the trees, you will spot massive structures. Once you enter, you will find yourself in the largest Soviet memorial built outside of the Soviet Union.
Because you probably missed this when you were in Berlin, I went there on your behalf. And as befits war memorials, I went on a snowy, cold and grey morning in February.
On top of the monument stands a Soviet soldier protecting a child and squashing a swastika.
Another interesting detail lies in the text chiseled into the large slabs of stone on both sides of the enormous square. The history of the Great Patriotic War, allegedly written by Stalin himself, explicitly mentions that "Hitler's henchmen tried to enslave or exterminate the people of Ukraine, Belarus, of the Baltics, of Moldova, of Crimea and of the Caucasus", stressing the multi-ethnic composition of the Soviet Union – and of the Red Army. The attempt by modern Russia to exclusively equate itself with the Soviet Union and its fight against fascism is clearly a falsification of history.
Another inscription mentions "the heroic defenders of Odessa", sadly topical nowadays.
When you leave the site of the Soviet memorial, you will find that many residents living across the street are trying to make exactly that point by flying Ukrainian flags from their windows and balconies.
For a short time, there was an additional monument in Berlin, a tank destroyed in the current war waged by Russia against Ukraine. And yes, your sense of architecture has not mislead you, that building in the background used to be the Soviet Embassy.
Links: