In Germany, a driving license is not comparable to an ID card or a passport. Instead, it is considered something like a birth certificate: once issued, it never expires.
That's why I can still drive with this old pink slip of crumbling paper.
And while it does raise eyebrows when I use the license to drive abroad, it is by no means extraordinary. Even driving licenses of countries that no longer exist are still valid, like the ones from the German Democratic Republic (ceased existence in 1990) or the Kingdom of Bavaria (ceased existence in 1918).
One advantage of this is obvious: You not only have a memory of what you looked like at age 18, but you also have proof. And if you have nothing to laugh about on a date, you just pull out your old driving licenses and reminisce about the time when everybody wore a beard or huge glasses. (Back then, even photos with sunglasses and hats were allowed.)
The second advantage is less obvious, but the real reason why many Germans are reluctant to exchange their old license papers for the new plastic card: Until 1999, if you passed the driving test on a regular car, you also received a driving permit for trucks weighing less than 7.5 tons. Automatically At no extra cost. Without ever having sat in a truck!
Except for this one time in Canada, many decades later, I only drove a truck once. When I was a teenager, I joined the local fire department. For once, because it's good to do something for the community. Second, if you didn't join, you needed to pay a small tax for the upkeep of the fire department. (The tax has since been ruled unconstitutional – because it was only levied on men – and has been scrapped.)
In my two years or so with the fire department, I never saw a fire. It's a rather peaceful area. But a few times a year, we had to get together for some exercise or training. It was in another village and, to my dismay, all the other firemen got drunk. Back then, as you could have guessed from the photo in my driving license, I was a very innocent boy and did not drink any alcohol. So, when it was time to return home in the fire engine, all heavy eyes were set on me.
"I've never driven anything so big," I exclaimed in horror.
"Don't worry, I'll sit next to you," the fire captain tried to calm me, hardly holding on to the table.
But he seems to have been worried nonetheless, because I remember that he steered me away from the road and through narrow forest paths, far from any other traffic. It was just a few kilometers and I managed not to kill any deer or rabbit. But once we reached our fire department, the captain made the mistake of asking me to reverse park the fire engine.
To his credit, he did repair the neighbor's fence the next day. That's how we deal with those things in the village.
At the fire department, they were relieved when I told them that I was going to law school and would have to move away.
But that's not what I wanted to talk about today. Instead, I wanted to tell you of the professional opportunity I have missed thanks to no longer living in the UK (where I resided for a few years in my 30s, never driving, because they use the wrong side of the road).
A friend of mine with whom I graduated from high school in Germany does however still live in the United Kingdom, although he has become a Scottish nationalist who would rather see the kingdom disunited. And, if it were up to him, probably not even a kingdom at all.
He received a surprising letter these days. Apparently, the British government is so desperate to fill the Brexit-self-induced lack of lorry drivers that they looked in some database of foreign driving licenses registered in the UK and mailed a letter to everyone holding a lorry permit – which includes all Germans with a regular car driving license received before 1999.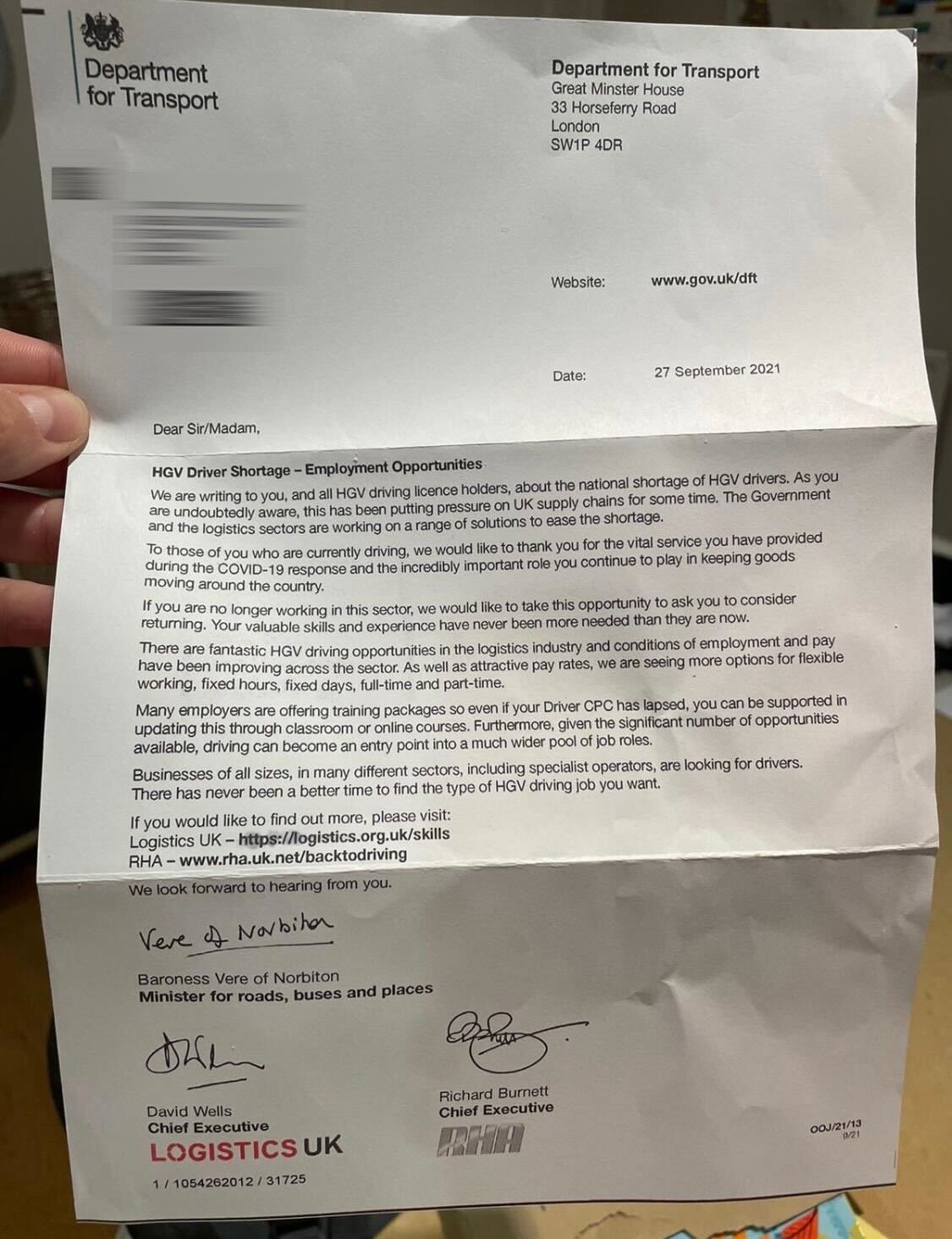 "HGV" stands for "heavy goods vehicle" and is apparently supposed to settle the dispute between "lorry" and "truck". And while "Baroness Vere of Norbiton" sounds like a character from a Harry Potter book, she is indeed the "Minister for roads, buses and places", which makes one wonder how other countries manage to have places without a designated minister.
Well, if there was a lorry-driving job that does not involve reverse parking, nor parallel parking, maybe no parking at all, come to think of it, I might consider it. Especially if it's one of those lorries that take large amount of cash from one bank to the other… My high-school friend, however, will probably refuse to support the nation in its darkest hour and carry on in his job as professor of mathematics. If only somebody had asked him to calculate the economic effects of Brexit before.
Links: