Impostors who portray their lives as more adventurous than they are don't just exist in novels and in blogs. Some live among us. Or, when impostorism conspires with narcissism, they force their way onto the big stage.
Now, everyone is thinking of Donald Trump.
But much more interesting is an impostor and narcissist who is also intelligent. Who deceives all his life, but never enriches himself.
Someone like Enric Marco from Barcelona.
Marco, who turns 100 this year, probably had his greatest performance in 2005, when he addressed the Spanish Parliament on Holocaust Remembrance Day. As chairman of an association of Spaniards who survived the Nazi concentration camps. And as a former inmate of the Flossenbürg concentration camp.
A few months later, historian Benito Bermejo revealed that Marco had invented this part of his biography. He had never been interned in a concentration camp. It is true that Marco was in Germany during World War II, but not, as he had claimed, as a resistance fighter who had joined the French Resistance. In truth, he worked as a metalworker at a German shipyard in Kiel, conveniently avoiding military service in Spain.
When things got dicey in Germany in 1943, he absconded to Spain. The Germans didn't bother to look for him, and the Spanish military did not draft him because they thought he was still in Germany. Marco started a family, concealing the existence of his already established first family, and became a car mechanic.
A life like a novel.
That's how he survived the oppression of the Franco era. Not exactly underground, but under the radar of the authorities. When he was bored, he told of his exploits in the Spanish Civil War, always on the front line, shoulder to shoulder with the well-known heads of the anarchists, in the attempted liberation of Mallorca, in the Résistance. But only in a small circle, because in the times of the dictatorship, anti-fascists were not en vogue.
That changed after Franco's death. When the anarcho-syndicalist trade union CNT was reestablished in 1976, Marco went to the meetings. There he expanded on his life story, in which he had now fought underground for the CNT's cause during the decades of Franco's dictatorship. For this reason, he said, he had to flee Spain, but had been betrayed and arrested in Marseilles, and had thus ended up in a concentration camp. Although none of the other trade unionists knew this lively, energetic man who could tell stories so well, they elected him president of the Catalan section of the CNT in 1977 and president at the national level the following year.
A life like a novel.
The CNT fell out between different factions, Marco was not re-elected and eventually expelled. His car repair shop did not fulfill him, so he began to study history on the side. At university, he met a young student whom he impressed with his heroic stories of civil war, anti-fascist struggle, escape and underground. With her, he started his third family.
But soon, he was bored again. So he got himself elected to the parents' council of his children's school. As was almost inevitable, within a very short time he became vice-chairman of the Parents' Association of Catalonia. He negotiated with the ministers of education, he gave speeches, and he forced his way into every newspaper photograph.
But at some point, his daughters had finished school, and Marco could not for the life of him remain in the Parents' Association. He needed a new job, especially since he was now retired. Being a retiree without a second job can be mind-numbingly boring. That was nothing for Marco.
He went to Amical de Mauthausen, an association of Spanish concentration camp survivors, and said that he would like to contribute to keep the memory from fading into oblivion. He could visit a school now and then to give a lecture. It turned into more than a few lectures. Soon, Marco was the organization's most sought-after speaker, he spoke in schools across the country, he appeared on radio and television, and – this should surprise no one by now – in 2001 he became chairman of Amical de Mauthausen.
A life like a novel.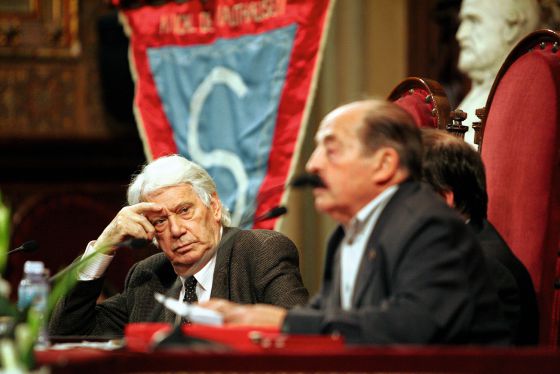 Javier Cercas, the author of the book "The Impostor" from which I took this story, did not have to invent anything. He was able to write a novel without any fiction because the protagonist provides enough fiction.
And so "The Impostor" is not only a biography, but also a book about the research that Cercas and others undertook over years. The sophistication with which Marco concocted his legend is impressive, but so is the way Cercas uncovers it piece by piece. Chance discoveries in old newspapers or archives often help, but Marco himself continues to be extremely talkative. His craving for recognition goes to the point of self-destruction. But his imagination is also the source of his strength. Like Don Quixote.
What I found excellent about the book is how Cercas embeds Marco's life, real and invented, in the history of Spain. From the Civil War to the will to forget to the memory circus, as the author calls it. Marco, the historian who became famous as an eyewitness, as a mirror of how Spain deals with history. Or does not deal with it.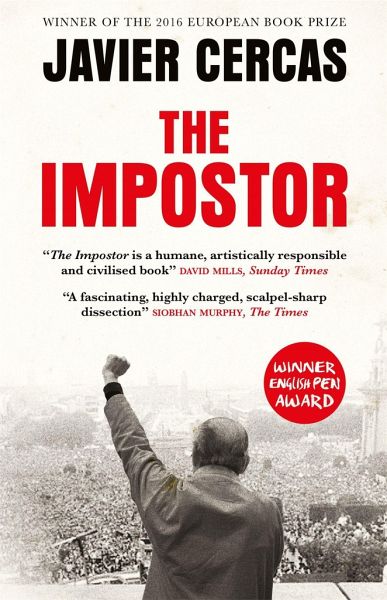 Cercas embeds all this in thoughts about fiction and truth, about literature, about psychology and philosophy, which, however, sometimes gets too out of hand. If the author had restrained himself a bit, dispensed with repetitions and superfluous details, the book could have been shortened by at least 100 pages. But nevertheless, it remains an interesting book that you won't forget about quickly.
Links: